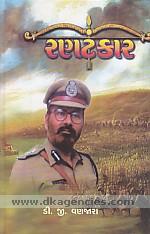 DK Number:
DKGUJ-8198
Title:
Ranatankara /
રણટંકાર /
Author:
Di. Ji. Vanajara.
ડી. જી. વણજરા.
Imprint:
Amadavada : Navaratna Entarapraijha,
અમદાવાદ : નવરત્ન એન્ટરપ્રાઇઝ,
Physical Desc.:
24, 128 p. ; 22 cm.
Year:
2012
Price:
USD 10.90
Nature Of Scope:
Poems.
Language:
In Gujarati.
Summary:
On the theme of Nationalism.
Subject Strings:
Nationalism--Poetry.