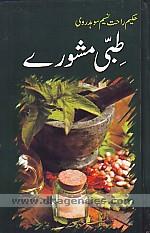 DK Number:
DKURD-5491
ISBN:
818891231X
Title:
Tibbi mashvare /
‫ طبى مشورے /
Author:
Rahat Nasim Suhadravi.
‫ راحت نسىم سوهدروى۔
Imprint:
Dihli : Buk Karporeshan,
‫ دهلى : ‫ بك كارپوریشن،
Physical Desc.:
200 p. ; 23 cm.
Year:
2010
Price:
USD 5.45
Language:
In Urdu.
Summary:
Various diseases and their remedies through ayurveda, unani and herbal system of medicine.
Subject Strings:
Medicine, Ayurvedic.
Medicine, Arab.