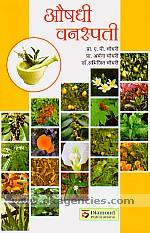 DK Number:
DKMAR-4709
ISBN:
9788184832907
Title:
Aushadhi vanaspati /
औषधी वनस्पती /
Author:
E. Pi. Caudhari, Arcana Caudhari, Abhijita Caudhari.
ए. पी. चौधरी, अर्चना चौधरी, अभिजित चौधरी.
Edition:
1. avrtti.
1. आवृत्ती.
Imprint:
Pune : Dayamanda Pablikesansa : Pramukha vitaraka, Dayamanda Buka Depo,
पुणे : प्रमुख वितरक, डायमंड बुक डेपो,
Physical Desc.:
286, [1] p. : ill. ; 22 cm.
Year:
2010
Price:
USD 13.60 (pbk.)
Language:
In Marathi.
Summary:
On various types of Indian medicinal plants and their uses.
Subject Strings:
Medicinal plants--India.
Materia medica, Vegetable.