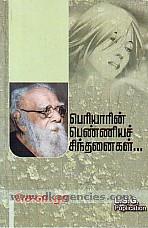 DK Number:
DKTAM-7344
Title:
Periyarin penniyac cintanaikal /
பெரியாரின் பெண்ணியச் சிந்தனைகள் /
Author:
Cau. Ra.
சௌ. ரா.
Edition:
Mutarpatippu.
முதற்பதிப்பு.
Imprint:
Cennai : L.S.G. Paplikesan,
சென்னை : L.S.G. பப்ளிகேஷன்,
Physical Desc.:
xvi, 82 p. ; 22 cm.
Year:
2007
Price:
USD 5.40 (pbk.)
Language:
In Tamil.
Summary:
Study on the feministic views of Erode Venkatappa Ramaswami Naicker, 1878-1973, social reformer and political leader from Tamil Nadu, India.
Subject Strings:
Feminism--India.