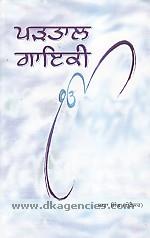 DK Number:
DKPAN-6883
ISBN:
9789380210179
Title:
Paratala gaiki /
ਪੜਤਾਲ ਗਾਇਕੀ /
Author:
Tara Singha ; sampadaka, Alankara Singha.
ਤਾਰਾ ਸਿੰਘ ; ਸੰਪਾਦਕ, ਅਲੰਕਾਰ ਸਿੰਘ.
Imprint:
Patiala : Guramati Sangita Prakashana,
ਪਟਿਆਲਾ : ਗੁਰਮਤਿ ਸੰਗੀਤ ਪ੍ਰਕਾਸ਼ਨ,
Physical Desc.:
167 p. ; 23 cm.
Year:
2011
Price:
USD 14.55
Language:
In Panjabi.
Summary:
On Paṛatāla, a style of singing Sikh hymns using five talas; includes hymns set to various ragas with musical notations.
Subject Strings:
Sikh hymns, Panjabi.
Hindustani music.
Tala.