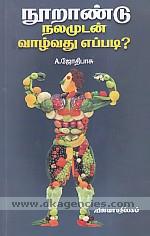 DK Number:
DKTAM-12958
ISBN:
8184468229
Title:
Nurantu nalamutan valvatu eppati /
நூறாண்டு நலமுடன் வாழ்வது எப்படி? /
Author:
A. Jotipacu, BBA., M.A. (HR), D.O.A., M.A. (Yoga).
அ. ஜோதிபாசு, BBA., M.A. (HR), D.O.A., M.A. (Yoga).
Edition:
Mutal patippu.
முதல் பதிப்பு.
Imprint:
Koyamputtur : Vijaya Patippakam,

Physical Desc.:
70 pages ; 22 cm
Year:
2017
Price:
USD 5.80 (pbk.)
Language:
In Tamil.
Summary:
On therapeutic uses of fruits and vegetables.
Subject Strings:
Materia medica, Vegetable.
Fruits--Therapeutic use.