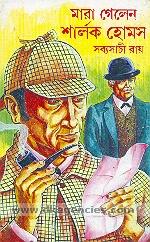 DK Number:
DKBEN-2230
Title:
Mara gelena Sarlaka Homasa! /
মারা গেলেন শার্লক হোমস! /
Author:
Sabyasaci Raya.
সব্যসাচী রায়.
Imprint:
Kalakata : Granthasambhara,
কলকাতা : গ্রন্থসম্ভার,
Physical Desc.:
192 p. : ill. ; 22 cm.
Year:
2004
Price:
USD 6.75
Nature Of Scope:
Short stories.
Language:
In Bengali.
Summary:
Stories, based on mysterious themes, retold by the author.
Subject Strings:
Short stories, Bengali.