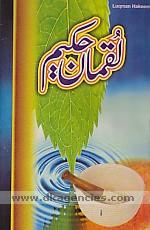 DK Number:
DKURD-5554
Title:
Hakim Luqman : hakim Luqman ki batai qadimi davaon ka nayab majmuah /
‫ حكىم لقمان : ‫ حكىم لقمان كى بتائى قدىمى دواؤں كا نایاب مجموعه /
Author:
murattib, Muhammad Shakil.
‫ مرتب، محمد شكىل۔
Imprint:
New Delhi : Rahul & Associates,

Physical Desc.:
160 p. ; 22 cm.
Year:
[2009?]
Price:
USD 7.25 (pbk.)
Language:
In Urdu.
Summary:
Treatment of various diseases through Unani system of medicine.
Subject Strings:
Medicine, Arab.