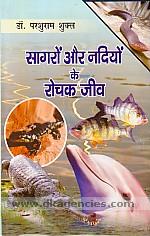 DK Number:
DKHIN-36759
ISBN:
9788190828758
Title:
Sagarom aura nadiyom ke rocaka jiva /
सागरों और नदियों के रोचक जीव /
Author:
Parasurama Sukla.
परशुराम शुक्ल.
Edition:
1 samskarana.
1 संस्करण.
Imprint:
Dilli : Lokahita Prakasana,
दिल्ली : लोकहित प्रकाशन,
Physical Desc.:
175 p. : ill. ; 23 cm.
Year:
2010
Price:
USD 17.55
Language:
In Hindi.
Summary:
On various water animals of sea and rivers.
Subject Strings:
Aquatic animals.