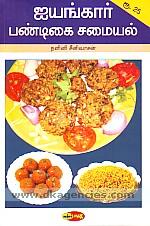 DK Number:
DKTAM-8243
ISBN:
9788184933390
Title:
Aiyankar pantikai camaiyal /
ஐயங்கார் பண்டிகை சமையல் /
Author:
Nalini cinivacan.
நளினி சீனிவாசன்.
Edition:
1st ed.
Imprint:
Chennai : Mini Max,

Physical Desc.:
80 p. ; 18 cm.
Year:
2009
Price:
USD 6.75 (pbk.)
Language:
In Tamil.
Summary:
Recipes of Hindu festivals of Iyangar (subsect of Brahmin).
Subject Strings:
Hindu cookery.
Cookery (Indic)--Southern style.