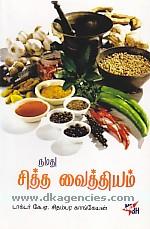 DK Number:
DKTAM-9054
ISBN:
9788123416946
Title:
Namatu citta vaittiyam /
நமது சித்த வைத்தியம் /
Author:
Ke. E. Citampara Kankeyan.
கே. ஏ. சிதம்பர காங்கேயன்.
Edition:
1. patippu.
1. பதிப்பு.
Imprint:
Cennai : Niyu Cencuri Puk Havus,
சென்னை : நியூ செஞ்சுரி புக் ஹவுஸ்,
Physical Desc.:
vii, 117 p. ; 21 cm.
Year:
2010
Price:
USD 5.45 (pbk.)
Language:
In Tamil.
Summary:
On various diseases and its treatment based on the Siddha system of Indic medicine.
Subject Strings:
Medicine, Siddha.