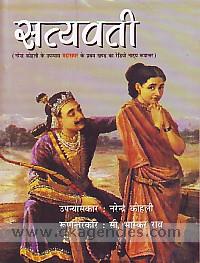 DK Number:
DKHIN-37796
ISBN:
9789380947075
Title:
Satyavati : Narendra Kohali ki vikhyata upanyasa srnkhala 'Mahasamara' ke prathama khanda ka rediyo natya rupantara /
सत्यवती : नरेंद्र कोहली की विख्यात उपन्यास शृंखला 'महासमर' के प्रथम खंड का रेडियो नाट्य रूपांतर /
Author:
upanyasakara, Narendra Kohali ; rediyo natya rupantakara, Si. Bhaskara Rava.
उपन्यासकार, नरेंद्र कोहली ; रेडियो नाट्य रूपांतकार, सी. भास्कर राव.
Edition:
1. samskarana.
1. संस्करण.
Imprint:
Nai Dilli : Buksa Indiya,
नई दिल्ली : बुक्स इंडिया,
Physical Desc.:
272 p. ; 25 cm.
Year:
2010
Price:
USD 19.45
Nature Of Scope:
Play.
Language:
In Hindi.
Summary:
Dramatization of part one of 'Mahasamara' novel of Narendra Kohli, b.1940, serialized broadcasting from Jamshedpur station of the All India Radio (Akashwani).
Subject Strings:
Radio plays, Hindi.