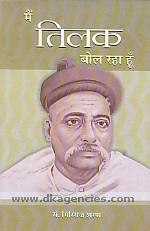 DK Number:
DKHIN-40920
ISBN:
9789380823188
Title:
Maim Tilaka bola raha hum /
मैं तिलक बोल रहा हूँ /
Author:
sam., Girirajasarana Agravala.
सं., गिरिराजशरण अग्रवाल.
Imprint:
Nai Dilli : Pratibha Pratishthana,
नई दिल्ली : प्रतिभा प्रतिष्ठान,
Physical Desc.:
143 p. ; 22 cm.
Year:
2011
Price:
USD 11.60
Language:
In Hindi.
Summary:
Dictionary of quotations of a social reformer and Indian nationalist.
Subject Strings:
Tilak, Bal Gangadhar, 1856-1920--Quotations--Dictionaries.