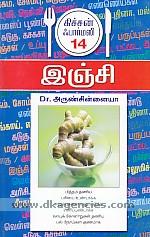 DK Number:
DKTAM-8889
ISBN:
9381020760
Title:
Inci /
இஞ்சி /
Author:
Aruncinnaiya.
அருண்சின்னையா.
Edition:
1. patippu.
1. பதிப்பு.
Imprint:
Cennai : Nakkiran Veliyitu,
சென்னை : நக்கீரன் வெளியீடு,
Physical Desc.:
96 p. ; 22 cm.
Series Information:
(Kiccan kaparmasi ; v. 14)
Year:
2010
Price:
USD 5.45 (pbk.)
Language:
In Tamil.
Summary:
On therapeutic uses of ginger in Siddha system of Indic medicine for healthy life.
Subject Strings:
Ginger--Therapeutic use.
Medicine, Siddha.