INDenhanceR -- a tool for enhancing MARC records with Indic/South
Asian Scripts
Software Division of DK once again comes with a new product for librarians. INDenhanceR is a software that enables
a user to enhance the MARC records wtih tag 880 (Alternate Graphic Representation) in the original script of the book using Unicode. The librarian just has to open a file containing various MARC records of one particular language, run the batch conversion process and save the file. It is too simple and easy. INDenhanceR can also be used as a MARC records editor. Moreover, you can convert your MARC-8 records into UTF-8 records using it.
South Asian Collection Librarians please note - If you want to get rid of the burden of entering the original script in your database, this is the tool that you are looking for, so ask for a TRIAL VERSION now!!! contact custserv@dkagencies.com
Introductory Offer :
Buy a Red Power Packet and get the basic software of the first language free. Save USD 129. RUSH NOW!!!
Also try our Indic Script Converter :INDscripteR --a multi-lingual tool for librarians, library users and linguists.
Salient features of INDenhanceR
Addition of tag 880 in existing MARC records
Option of enhancing using a batch process
Manual script generation also possible for any tag in any record
Works on the basis of Unicode for worldwide usage
Converts records from MARC-8 to UTF-8
Strictly according to ALA-LC Romanization Tables (a standard transliteration scheme approved by Library of Congress and American Library Association)
Supports without depending on which library management system is in use
Search facility in MARC records also available on the basis of tag, keyword or both
Format/font of the text can be adjusted as per user's need
Very easy and convenient for the end user
Can be customized as per the customer's needs
Available for Assamese, Bengali, Gujarati, Hindi, Kannada, Malayalam, Marathi, Nepali, Oriya, Panjabi, Sanskrit, Tamil, Telugu, Tibetan and Urdu
Regular updates if any, of the software will be made available to the customer
Developed by a company completely Devoted to Knowledge and known for its library friendly approach for more than 40 years providing books, periodicals, MARC records, Retro Conversion and such other services worldwide
Top
Give your users/customers a value addition by giving them searching and viewing facility in the script of the book
Librarian can see if there is some human error in transliteration by converting it back into the original script
If changing from an older system to a new library management system using unicode, no need to re-enter the data. Just convert it to UTF-8 using INDenhanceR
An easy to use MARC records editor
A power packed software for doing retrocon yourself, without compromising on the security of your data
Top
Framework. Net 2.0 required. Available for free download from microsoft.com
Internet access is a must while running INDenhanceR
For all the languages, except Tibetan, 'Arial MS Unicode' font is used. For Tibetan 'Tibetan Machine Uni' font is used.
Following is the chart relating to operating system requirements for various languages
| | | | | |
| --- | --- | --- | --- | --- |
| | Windows 2000 | Windows XP | Windows XP – SP2 | Vista |
| Assamese | | | Ö | Ö |
| Bengali | | | Ö | Ö |
| Gujarati | | Ö | Ö | Ö |
| Hindi | Ö | Ö | Ö | Ö |
| Kannada | | Ö | Ö | Ö |
| Malayalam | | | Ö | Ö |
| Marathi | Ö | Ö | Ö | Ö |
| Nepali | Ö | Ö | Ö | Ö |
| Oriya | | | | Ö |
| Panjabi | | Ö | Ö | Ö |
| Sanskrit | Ö | Ö | Ö | Ö |
| Tamil | Ö | Ö | Ö | Ö |
| Telugu | | Ö | Ö | Ö |
| Tibetan | | | Ö | Ö |
| Urdu | | | Ö | Ö |
Top
Note: For best performance please use Microsoft Vista operating system as it has Unicode 5.0 support.
1. Login to INDenhanceR using the user name and password provided by to you.

2. Open the UTF-8 or MARC-8 file using the File menu.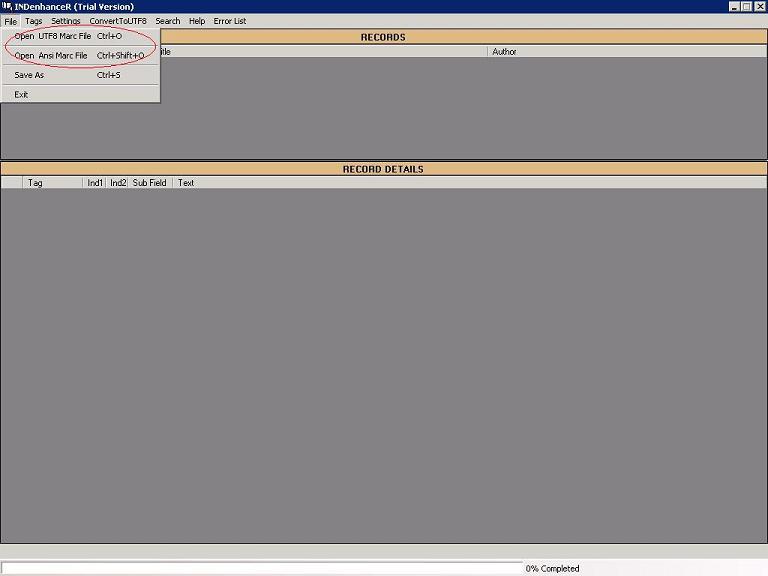 3. An open dialog box will be displayed. Select the file containing MARC records that you want to edit.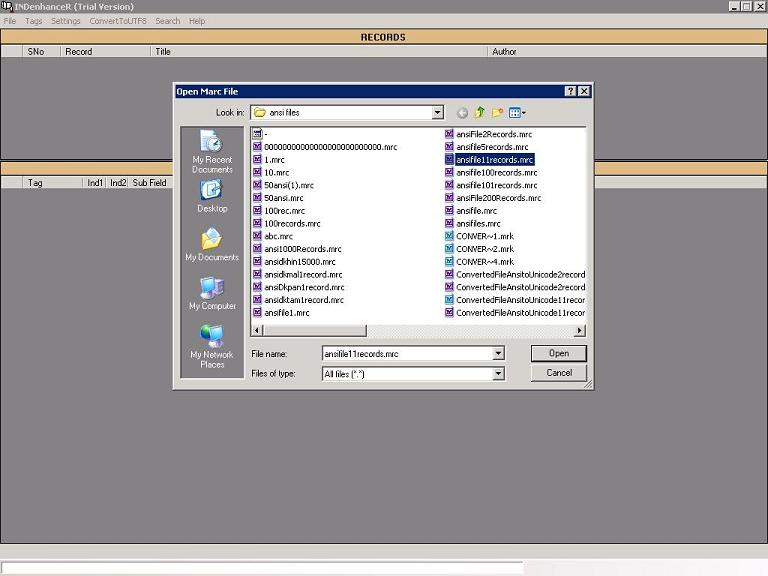 4. You will be able to see only 5 records of the file in the Trial Version.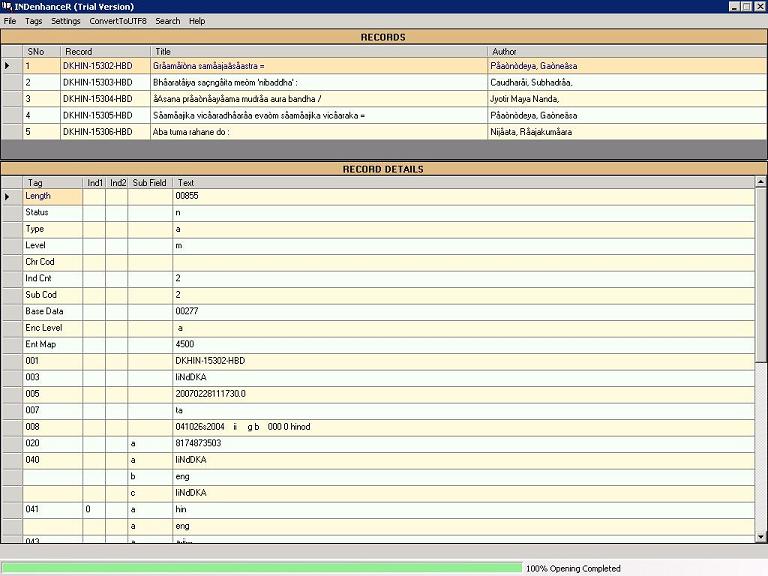 5. If the opened file is MARC-8, you will need to first convert it to UTF-8. To do so, click on "Convert to UTF-8" menu button. If the opened file is UTF-8, skip this step.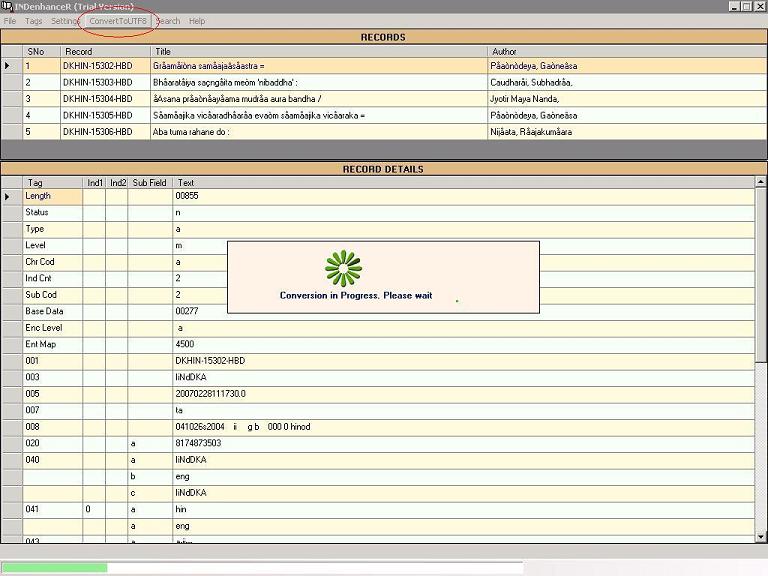 6. If you want to add or delete a row in the record, use Tags menu and select the appropriate button. You can use shortcut keys for faster operation.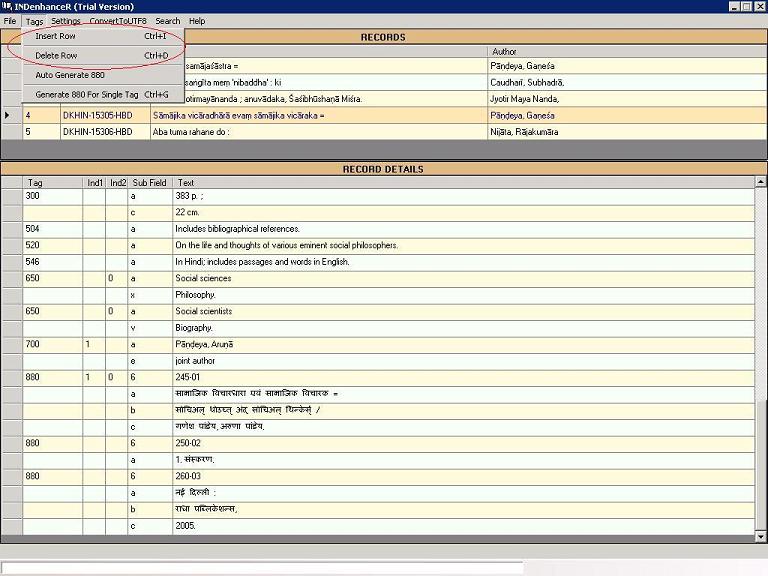 7. To autogenerate the 880 tags, click on "Auto Generate 880" button in the "Tags" menu.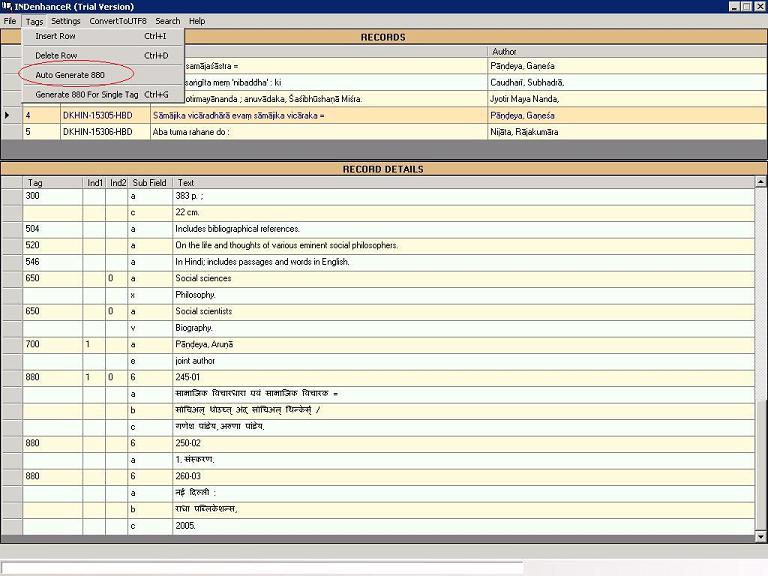 8. After the above step, autogeneration process will start.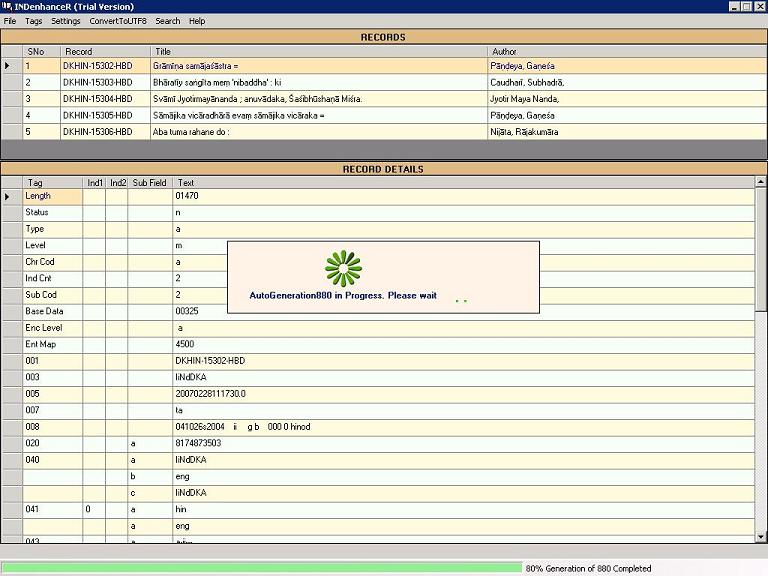 9. This screenshot displays the autogenerated 880 tag in Hindi.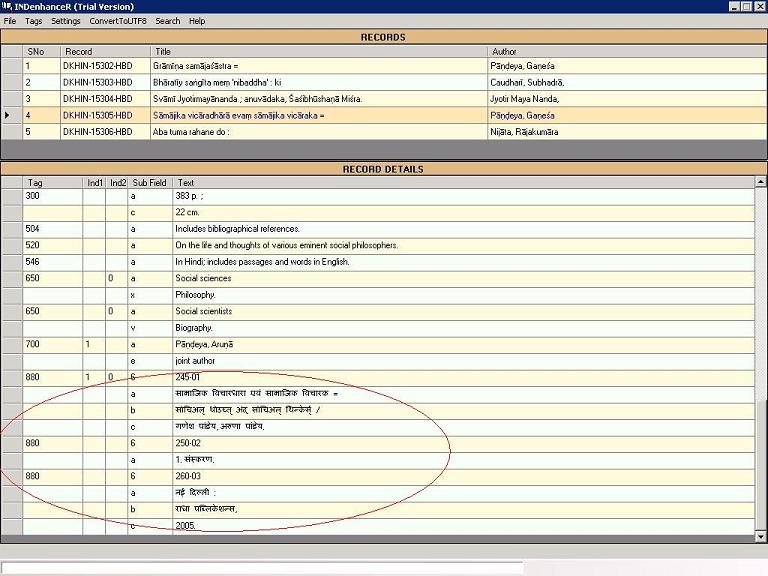 10. If any transliteration error is found in autogeneration process, a menu item "Error List" will appear in the menu bar. On click, a report of errors will be displayed.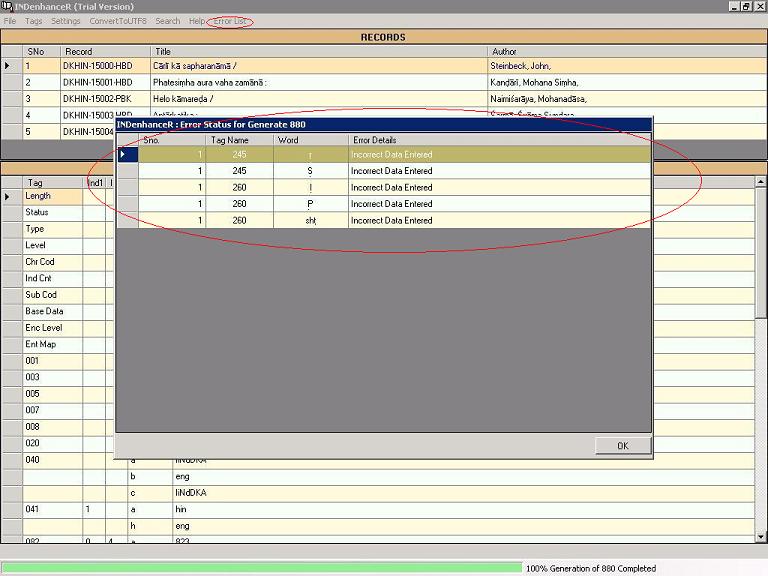 11. You can also generate tag 880 for any tag in any record. For this you can :
a) Select the tag of the particular record for which you want to generate 880 manually.
b) Click on "Tags" menu and select "Generate 880 for Single Tag" or press CTRL+G.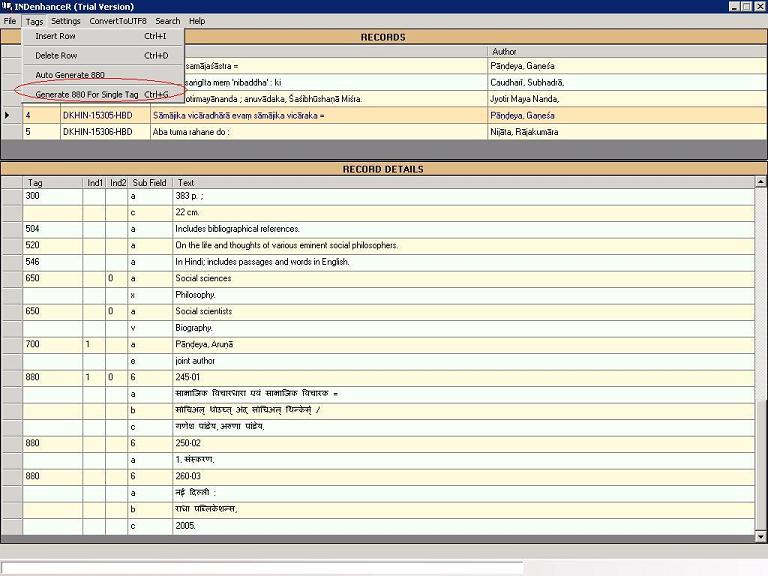 12. You have the facility to adjust the font size and color according to your needs. You can change it for records headings as well as records details. just click on "settings" menu and select the desired font setting.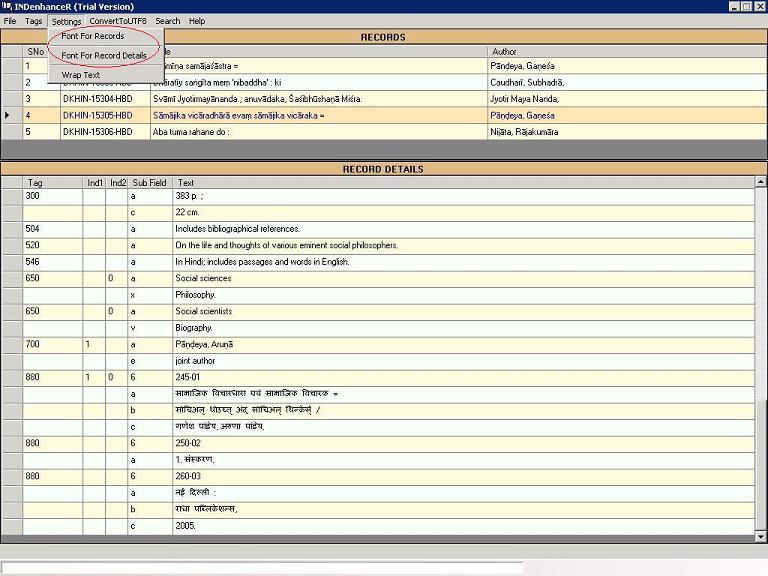 13. You can search in the file using the "Search" menu.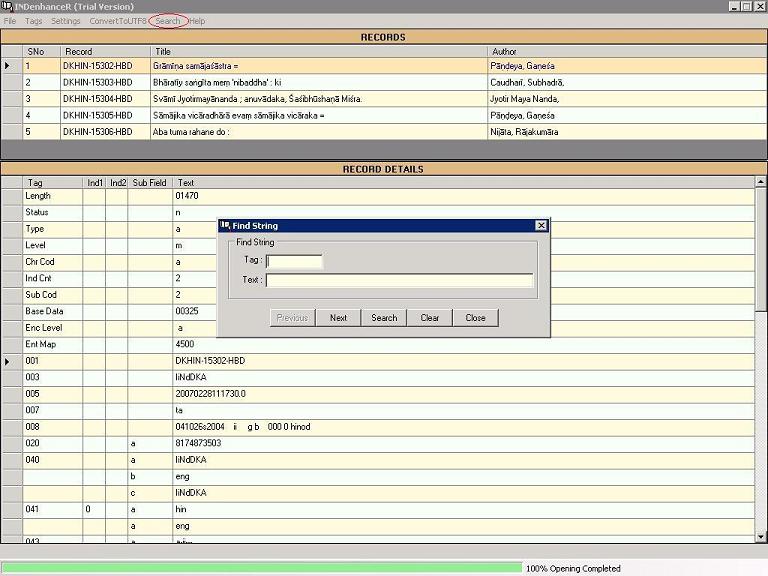 14. To save the MARC file select the "Save As" option in the "file" menu.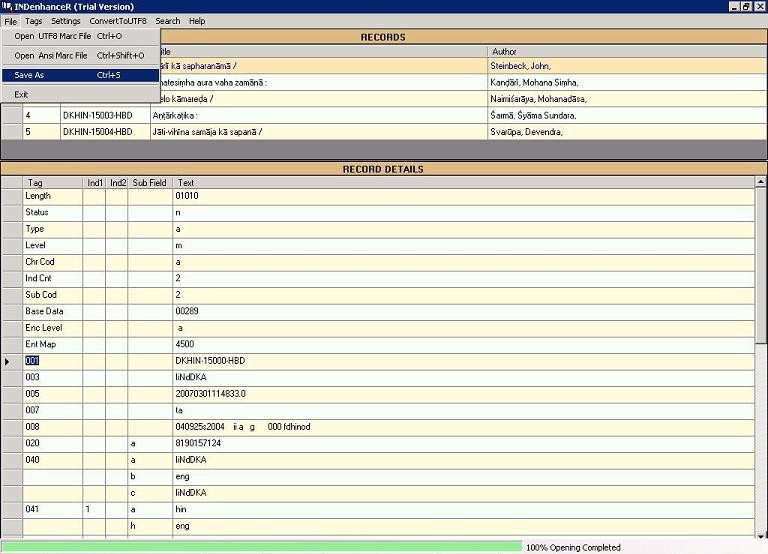 15. Just save the file at the desired location.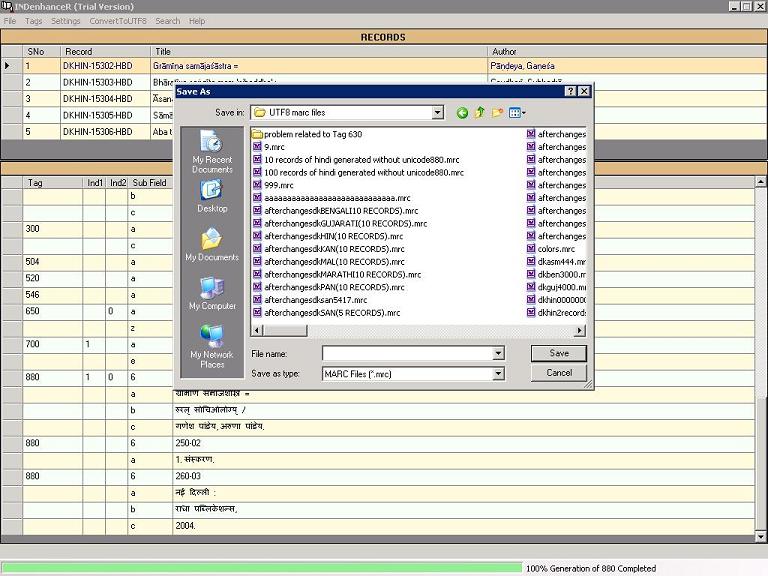 16. On completion of the saving process a message indicating the successful completion of the save process will be displayed.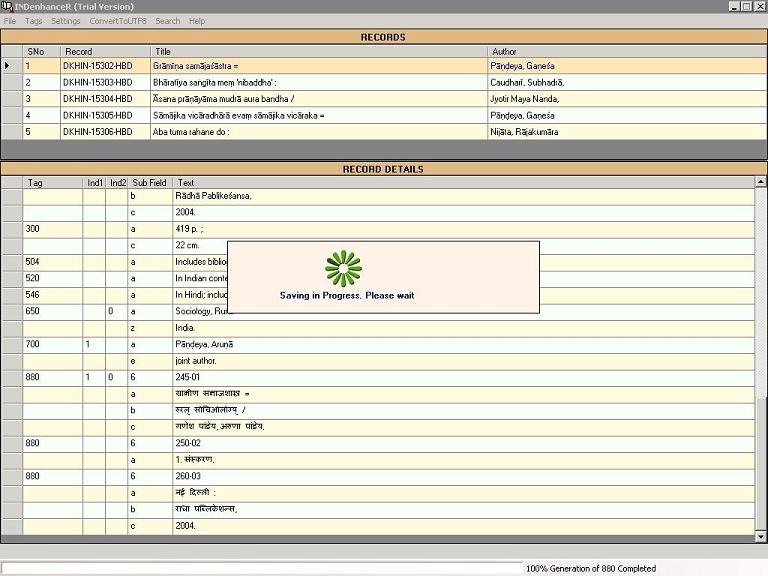 17. Now the file is saved at the desired location. It will be in UTF-8 with tag 880.
Top
* Available language wise only.

* Basic price of the tool:

-> USD 129 for the first language.
-> USD 69 for each additional language.
In addition to the basic tool, one will need to buy Power Packets. Power Packets will enable the user to save records. Different options of Power Packets are available as given below:
| | | | | |
| --- | --- | --- | --- | --- |
| Power Packet | No. of records that can be saved | Price (in USD) | Average cost per record saved (USD) | You Save |
| Violet | 100 | 149 | 1.49 | - |
| Indigo | 200 | 268 | 1.34 | 10% |
| Blue | 500 | 595 | 1.19 | 20% |
| Green | 1000 | 1040 | 1.04 | 30% |
| Yellow | 2000 | 1780 | 0.89 | 40% |
| Orange | 5000 | 3750 | 0.75 | 50% |
| Red | 10000 | 5900 | 0.59 | 60% |
Validity of usage : 365 days from the date of purchase of the Power Packet
Introductory Offer :
Buy a Red Power Packet and get the basic software of the first language free. Save USD 129.
RUSH NOW!!!
Top
Also try our Indic Script Converter :INDscripteR --a multi-lingual tool for librarians, library users and linguists.